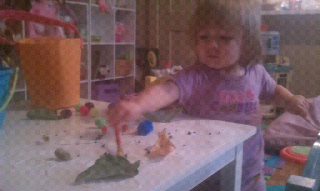 Nature Collage
About 2 days ago, Hailey and I went on a nature walk around the neighborhood to a local stream. Well today we finally had the chance to make a collage out of all the stuff we collected, plus pom poms!
I took large art paper and spread white glue all over it and gave Hailey a paintbrush to help spread the glue around! We put on our findings and added the pom poms for color! Hailey loved using the paintbrush to spread the glue around. This led to our next activity, painting, which I will write about next!
We had so much fun experimenting with the sticky, thick texture of the glue and seeing how things stuck to not just the paper, but the paintbrush as well! So much fun! I am definitely adding collage making to our list of everyday activities! It was a blast!
Our finished work of art!!